Shamrock Hoops off to 5-1 Start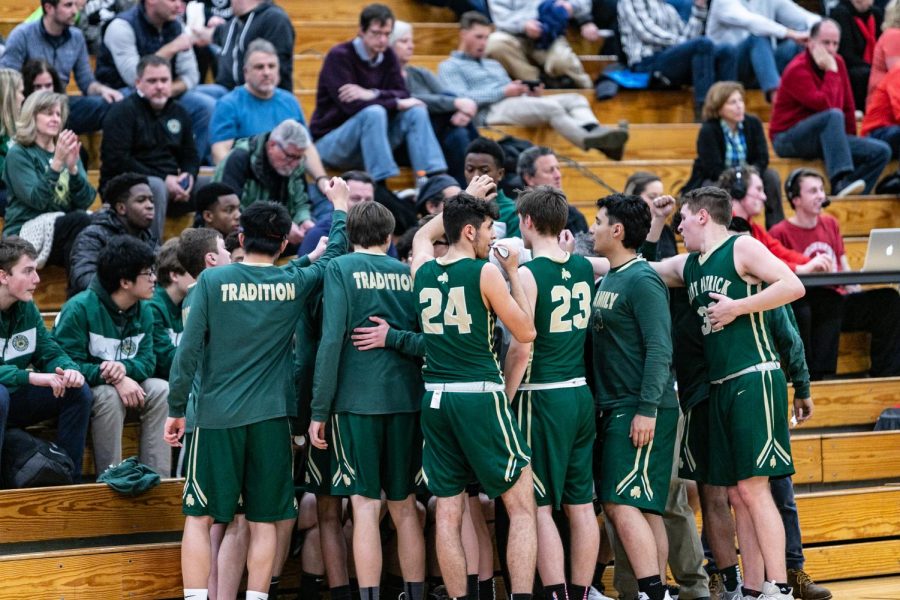 St. Pat's basketball is off to a solid 5-1 start. Starting the season with the Saint Patrick/Glenbrook North Thanksgiving Tournament, the Shamrocks had three blowout wins over De La Salle, Walter Payton and Niles West before falling to Wheaton North in the tournament final. The following week the 'Rocks upset #18 Benet 57-49. Dominic Galati '20 fueled the win with 18 points. Star sophomore Timaris Brown had 13 points versus Benet.
Following the Benet upset the squad traveled to Ridgewood to play Waukegan in a neutral setting matchup. The Shamrocks racked up a big 25 points before the Bulldogs from Waukegan scored; the final was 59-24. Caden Connolly '21 came off the bench with the first two dunks of his life in the game.
Nick Cioffi '20 is in his second year with the team after transferring from Neuqua Valley. He responded to how he felt on the team's successful start: "We just came out of the gate really hot. Losing the championship game the way we did was actually good for our team's growth as a unit. Playing Benet, we fought the entire game and played our game which just weathered the storm. The best part about our team is that we have so many weapons, but we all have the same goal which is winning. There are no personal agendas and any one of us can go off for 20 and the rest of the team is happy for him." Cioffi is averaging 10 points through six games.
Galati '20 leads the team averaging 14 points per game through the opening six games. I asked him how he felt heading into this tough weekend against Carmel Catholic and Montini Catholic. Galati said, "We feel very confident going into this stretch of games. Coach Bailey and his staff will give us the best opportunity to go out there and win. They will prepare us for these games and we just need to execute. We are playing great basketball."
Coach Bailey's team will play this Friday at 7 pm against Carmel followed by a game on Saturday at 3:30 pm against Montini Catholic. Both games will be played at home on Kurland Court.