Bret Buganski '03 Enjoying Successful Journalism Career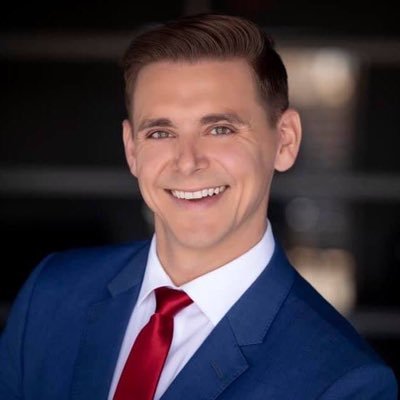 "I can't imagine myself doing anything else." – Bret Buganski '03
Bret Buganski, a 2003 graduate from Saint Patrick, has spent nearly two decades as a journalist for multiple news networks. After graduation, Buganski started his career at a news station in Quincy, Illinois, a job he took to be closer to home. While in Quincy, Buganski covered a lot of agriculture news, and because Quincy is right on the border between Illinois and Iowa, he covered both states.
Buganski's first national news story came when the Mississippi River flooded after a levy broke. He also covered the 2008 Iowa presidential caucus, in which Barack Obama (D-Illinois) pulled off his first major upset of the campaign and made a national name for himself. Even though Buganski made only $20,000 a year, qualifing him for subsidized housing at the time, he was extremely grateful for the opportunity as it gave him the chance to acquire journalism experience and understand what it takes to succeed in the profession. 
"When you start off, you're young, you're inexperienced, and you're going to make mistakes," Buganski said, reflecting on his first job in Quincy. 
After about a year and a half in Quincy, Buganski took a job in Champaign, Illinois. A major story he covered during his time there was a college admissions scandal at the University of Illinois, in which applicants were using their political connections to get accepted. 
After his time in Champaign, Buganski accepted a job as a multimedia journalist in Milwaukee, Wisconsin. As a multimedia journalist Buganski had to shoot, edit, and write all his stories. Having to do all these things helped Buganski learn the importance of time management. He spent three years in Milwaukee, but felt like something was missing. "The thing that was missing in my life was I wanted to be on the anchor desk," he explained. 
Buganski took a leap of faith and moved to Tucson, Arizona, where he was given the chance to fulfill his dream as an anchorman. After a few years in Arizona, Buganski moved to Oklahoma City, where he was a Capitol reporter. He thoroughly enjoyed his time as a Capitol reporter because he got to cover influential news, including a national teacher walkout in 2018. 
In 2019, Buganski moved to Wichita, Kansas where he is currently the morning news anchor and an investigative reporter for KSN. As an anchor, Buganski mainly covers COVID-19-related stories. As an investigative reporter, Buganski said he feels great after helping an average person. 
Throughout his career, Buganski has incorporated numerous values he learned at Saint Patrick into his work. Above all, mental and emotional toughness are values he credits Saint Patrick with instilling in him. As a student at St. Pat's Buganski wasn't a top student or star athlete, and did not get into the National Honor Society. Although he was disappointed, it helped him learn to deal with rejection. "You have to be able to take rejection and be able to continue working," Buganski explained. "Things aren't always going to work out the way you want them to."  
"You have to go where the job is going to take you," Buganski said, referring to the fact that he's moved numerous times in order to acquire a better job. Buganski believes a successful journalist must be open, flexible, and adventurous. In addition, he says the most important skill a journalist should have is to be curious.
"You have to be really engaged where you live and you have to love where you live," Buganski said. "You have to show people why you care and that this is the most important story they will hear all day so they should stop what they're doing and pay attention."