A Buzz in the Air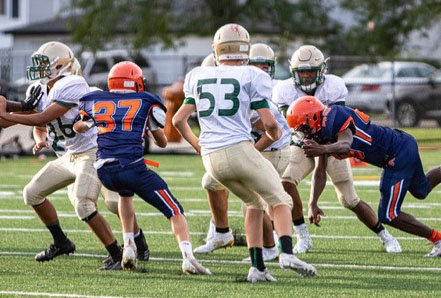 As Saint Patrick High School students have returned to school, so have contact sports. 
Contact days for football are being allowed in preparation for the spring season. Basketball has started contact days for their winter season and soccer is preparing for the spring as well. Anticipation is building for the winter and spring season sports to kick off and a familiar buzz has re-entered the building as the student athletes are able to come together again.
Varsity football player Braden Kumiega '22 says, "I can feel the difference around here, it made me even more excited to be back and practice."
Sports is one of the most uniting aspects of the Saint Patrick student body and truly is having a positive impact in helping the students recreate some semblance of normality
"I do feel some sense of normalcy being back on the field with my brothers," Kumiega added. "I think sports are vital to my identity and many of my teammates so our return to contact days has really helped us."
The COVID-19 virus has generated many changes to allow for safe play. The football season was delayed to early February. Many sports have had to find creative ways to prepare without being able to do certain drills and practices. 
Despite the pandemic and its delays, the athletes and coaches believe they will still be able to prepare and have successful seasons. They are excited, as restrictions have eased up, to get back into things and move on to their seasons.